From delicious golds to vivid reds, don't miss the fiery colors of fall in Santa Cruz County.
SANTA CRUZ, CA — Fall is just around the corner, so get ready for pumpkin spice everything, apple picking, pumpkin carving — and of course — green tree leaves shifting to the breathtakingly beautiful, fiery colors of autumn.
Anxious to see the leaves change? Us too. Now, the 2020 Fall Foliage Prediction Map is out so you can get ready to see autumn in all its splendor along the Central Coast and across the country.
The first day of fall is still weeks away, but the autumnal equinox isn't the best measure of when foliage will turn to blazing reds, vibrant oranges and sunny yellows in Santa Cruz County.
No predictive tool is 100 percent accurate, but using the newly released interactive "2020 Fall Foliage Prediction Map" can give you a pretty good shot at seeing autumn leaves at the peak of their splendor.
In Santa Cruz, leaves are forecast to start changing the week of Oct. 12, then hit their peak Nov. 2. By Nov. 9, trees are forecast to be past their peak colors.
Developed as a tool to help vacationers book lodging and other accommodations in the Smoky Mountains, which rise above the Tennessee-North Carolina border, the Fall Foliage Prediction Map from SmokyMountains.com provides peak leaf change predictions for the entire continental United States.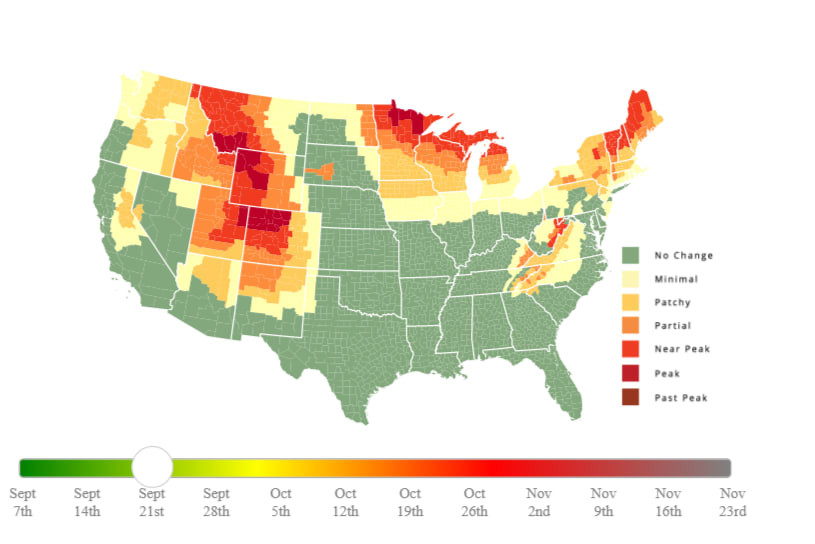 To use the map, simply slide the scale to the right to see when leaves will peak in your state. Zero in on your county, and you'll be able to decide whether it's best to plan a northern, southern, eastern or western route.
Santa Cruz County has some great vistas to view fall leaves — just be sure to visit the website before you head out for the latest coronavirus social distancing guidelines. Depending on fire conditions, some parks may be closed due to fire risk.
Here are a few prime spots in Santa Cruz and elsewhere in Santa Cruz County:
Kaelin Wagnermarsh
Realtor DRE 01945819
eXp Realty of CA