In the News
There have been a few updates this week locally.
County Bans Use of Vacation Rentals
The first, as of yesterday, Santa Cruz County has banned the use of vacation rentals to comply with the COVID 19 health order. This requires sellers to cancel current bookings through the shelter in place order. This could have several effects including potential loss of income, while it also has some of these owners considering longer term leases. See below for further details.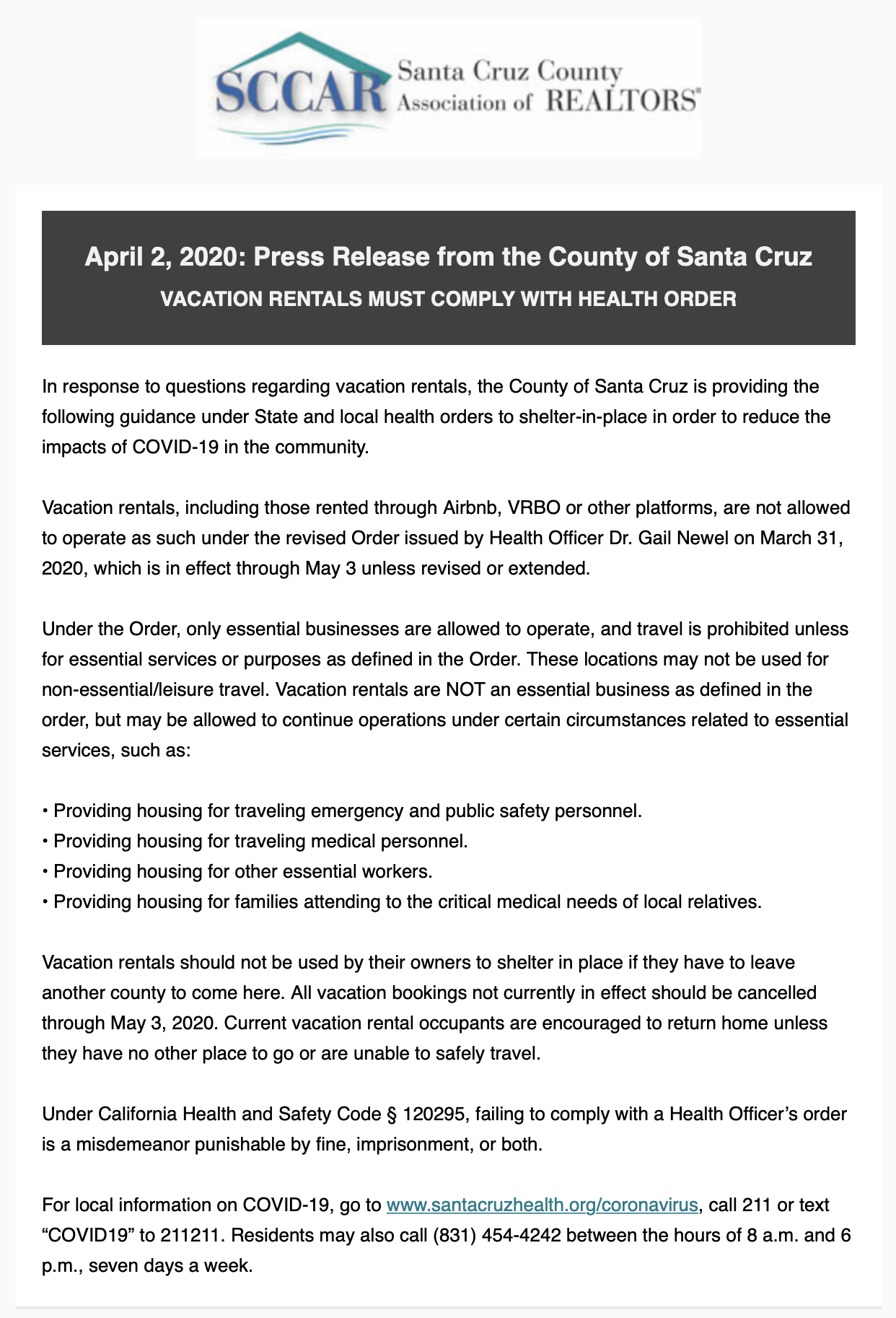 Update to Essential Services
The next was deeming real estate service as essential. Our industry has made several changes to how we conduct business in order to keep our clients and community safe. This includes all showings and appointment interactions to be virtual. Should a virtual interaction be deemed impossible, say a property not having reception, there are restrictions as well. Only two people other than the agent can be present. Also, those two people need to reside in the same residence. In addition to this, only showings can happen in properties that do not have the owners, or any one, living in them. This is important for folks considering selling, in order for your home to be shown at all it must be vacant.
Of course, the obvious social distancing and cleaning precautions are to be taken while at any property. There are several pieces to the new best practices to ensure everyones safety, so if you wish to learn about them, just let me know. While this may seem like a lot, it is truly for the safety of everyone and currently for the duration of the shelter in place order for Santa Cruz County. The good thing in all of this is that we are keeping our community safe by doing our part to flatten the curve while still serving our clients. Here is an example of how real estate transactions can look during the shelter in place.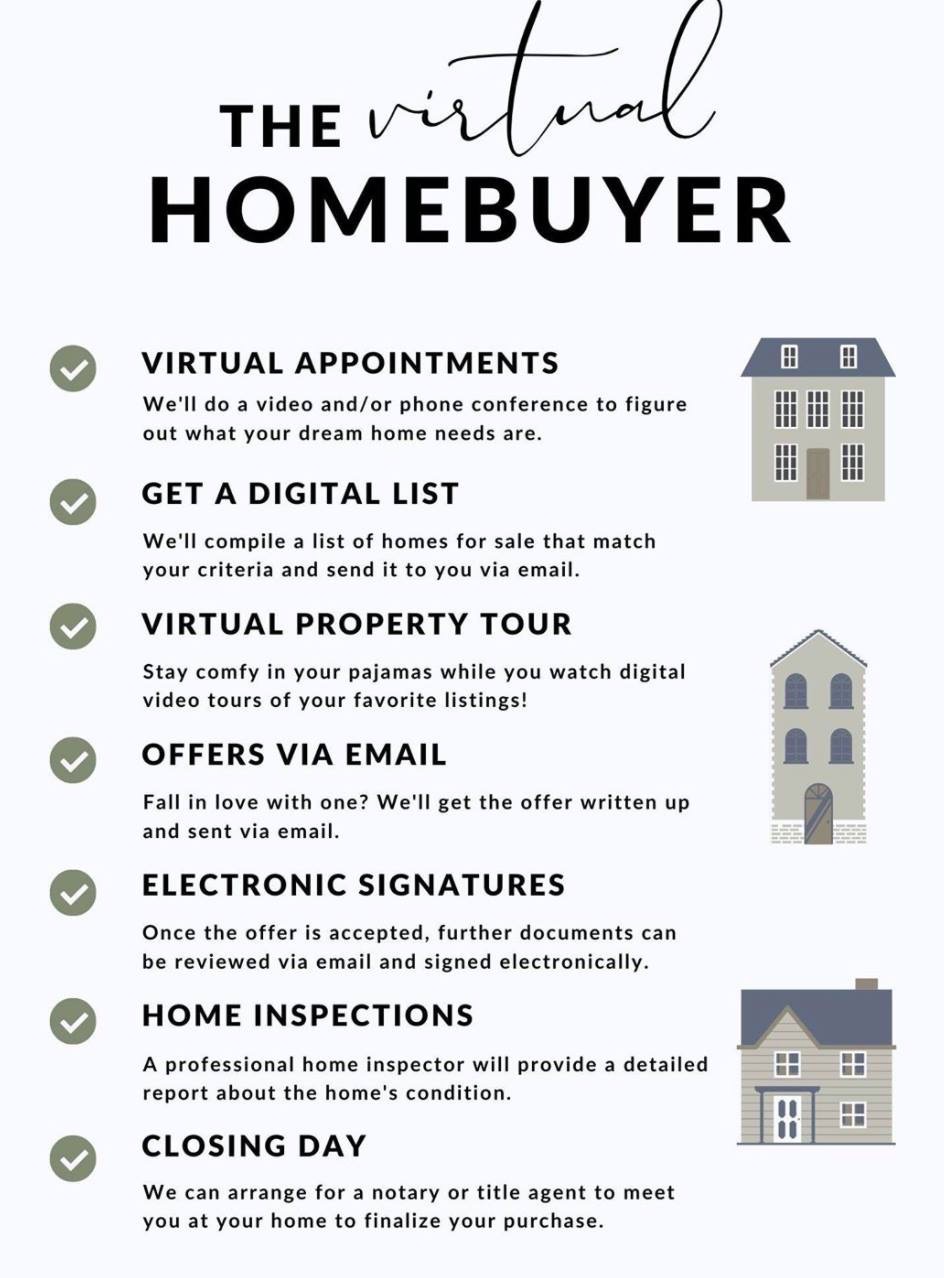 I wanted to share this image regarding forbearance and this topic has been discussed recently. If due to COVID19 you are suffering and unable to pay your mortgage be sure to discuss directly with your mortgage provider about what assistance they are offering.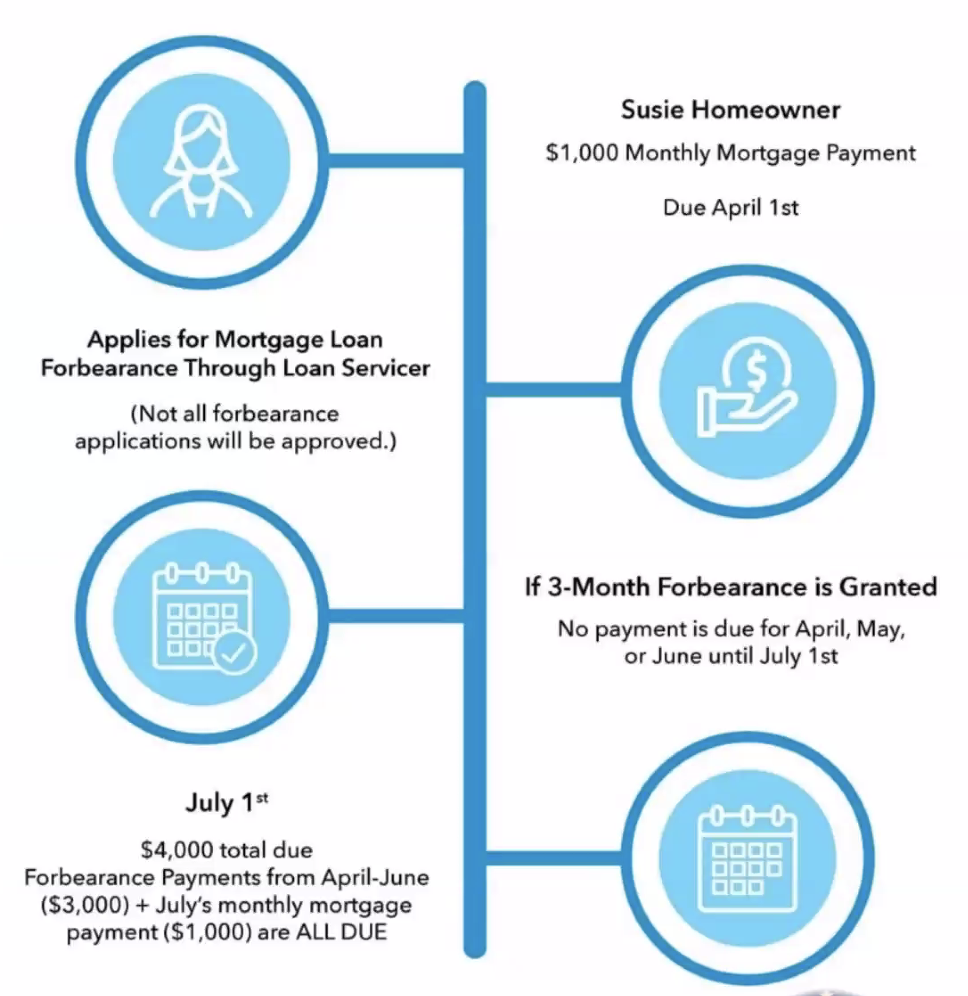 The CARES Act and business support
The Santa Cruz Economic Development Office put together a great breakdown of what the CARES Act provides for business, see below or visit their website here:
Santa Cruz Economic Development Office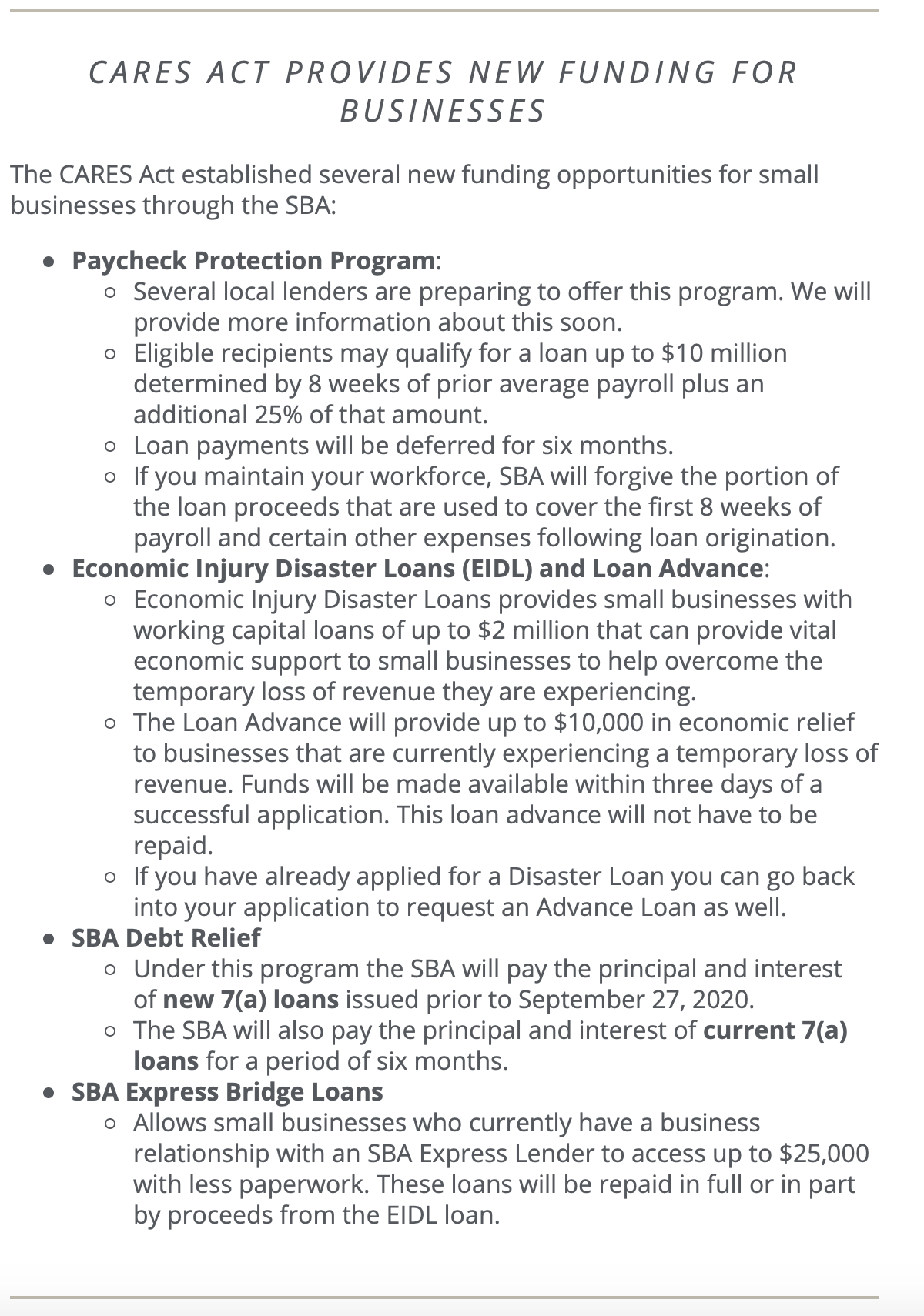 But how is the market?
I've put together some graphics to illustrate comparisons. I've broken down the last 4 weeks, and then highlighted the last week. So, let's compare whats been going on in real estate over the past several weeks. Have there been changes since the COVID-19 outbreak ? If so, what does that look like? The things to look out for would be drastic changes in price reductions, transactions falling through, and removed listings. What do you notice?
For reference: "TFT" means "transaction fallen through" or canceled escrow. "C/W/E" translates to Canceled, Withdrawn or Expired listings, meaning removed from the market.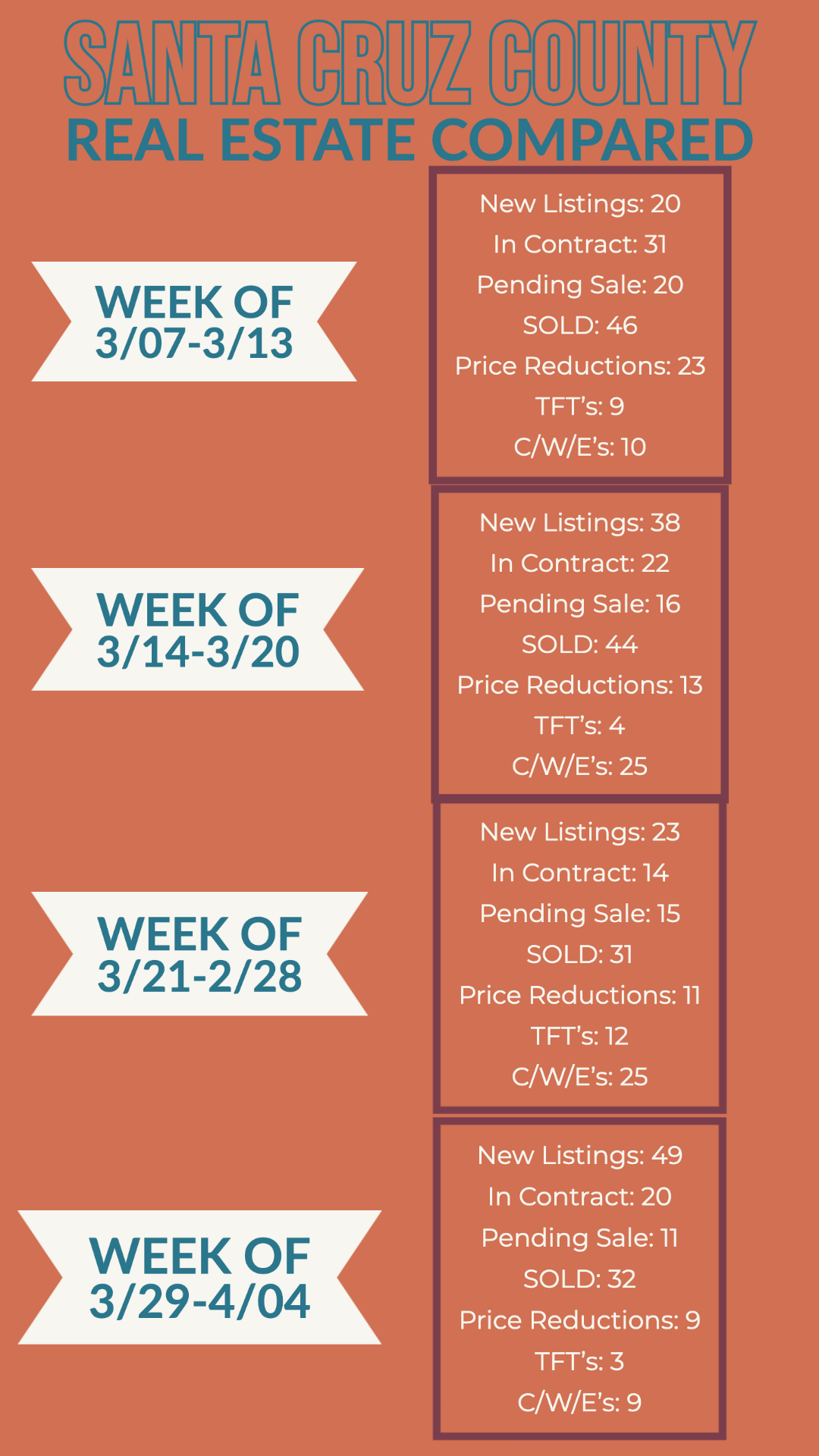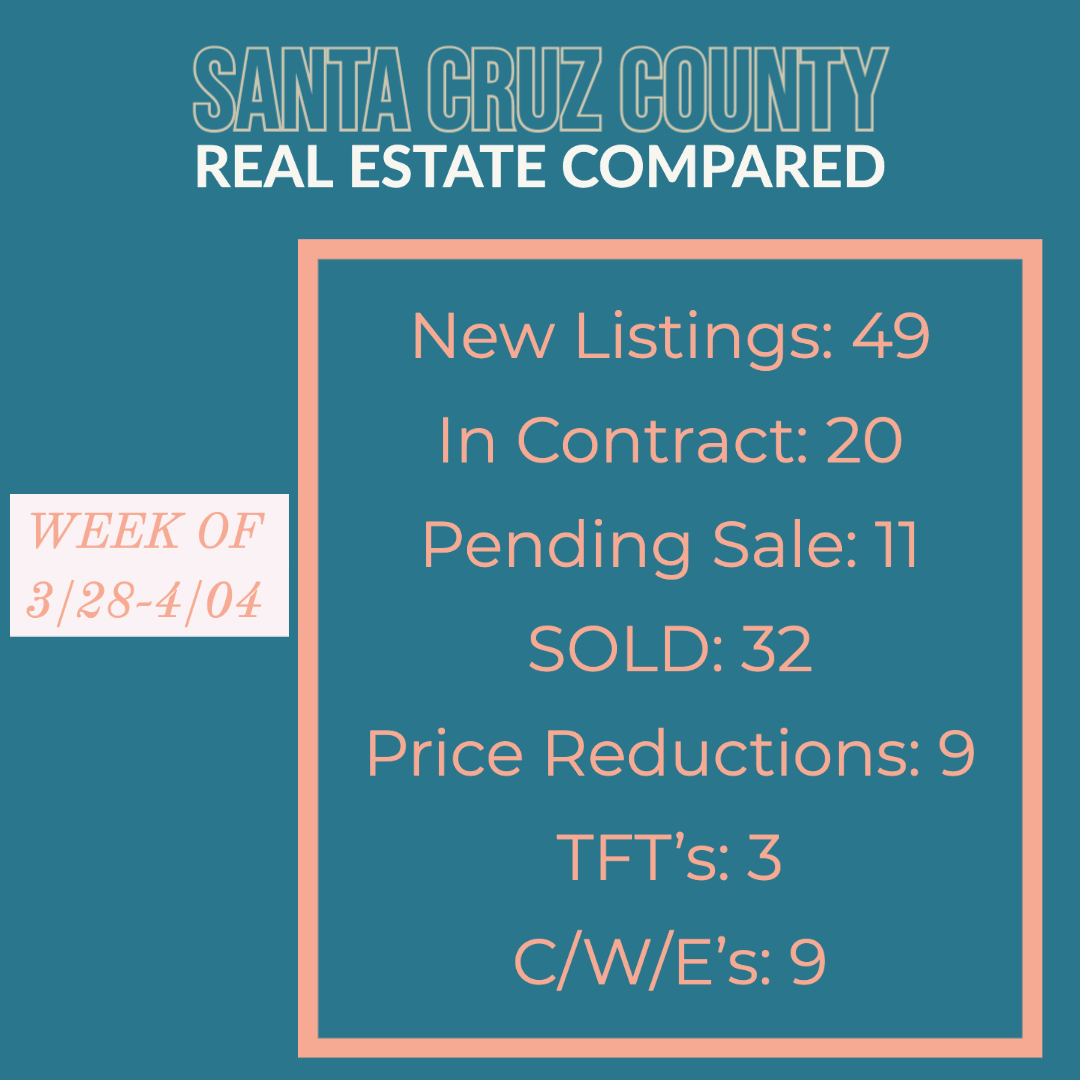 This past week showed a healthier market. Drastic drop in removed listings and fallen through transactions. A healthy number of homes went into contract and there has been a trend of fewer price reductions week over week.
As always, Support Local!
Help out local businesses by buying gift cards, visit rideoutthewave.org to support local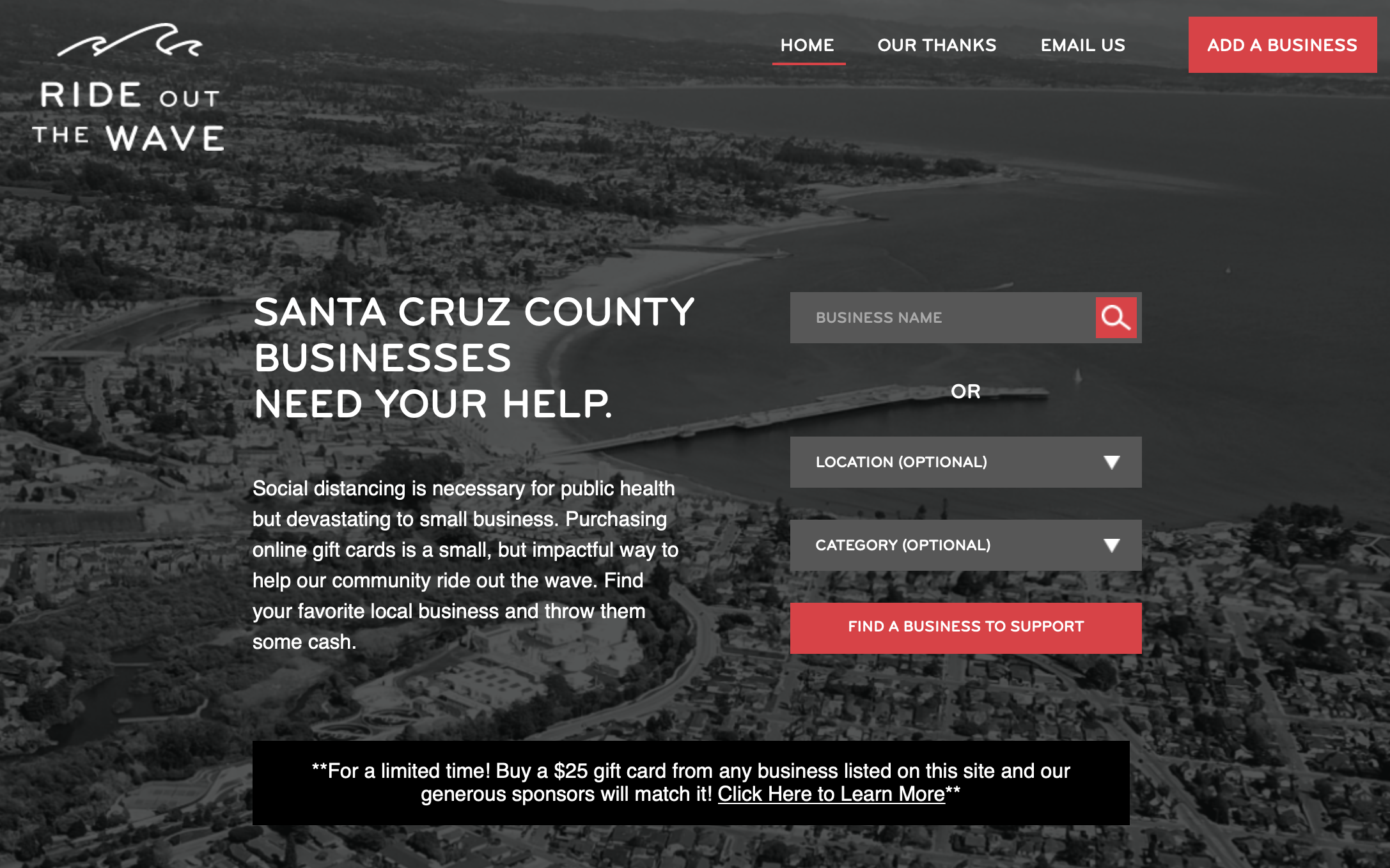 Have questions? We are here to help.
Kaelin Wagnermarsh
Realtor® DRE 01945819
Santa Cruz County Real Estate Agent
831.419.6538
info@kaelinrealestate.com
Keller Williams Realty Santa Cruz