Let's Support Local
The shelter in place has hit our community hard. Many businesses have been greatly impacted and many folks are out of work. What can we do about that? Well, for one, support the businesses that are open and trying to continue operations during this shelter in place order. If you have an open business in Santa Cruz County I want to know! I will provide a working list of operational businesses to share far and wide. Include your business name, what your business offers, how people can support you and how to contact you, I've made a google form here.
There is also a great website geared to Santa Cruz City specifically, and since Aptos is listed too, give a try adding your company info here as well if your business is located in other areas of the county
Support Santa Cruz
In the News
Be sure to watch Governor Gavin Newsom's address today, or the coming days, as he speculated last week that he would have an update today ( Tuesday) regarding mortgage and rental assistance for those affected. Also, additional information regarding mortgage relief that is evolving daily:
Forbes mortgage relief tracker
Opinions are being formed around Q2 and recession, here are some examples
The California Association of Realtors® updated us today with their initial opinion "Given the recent hit to financial markets, the decline in consumer spending, and the rise in new unemployment insurance claims, C.A.R. has revised its forecast lower for the economy generally and the state's housing market specifically. C.A.R. is forecasting that the benefit of lower interest rates will be outweighed by deteriorating consumer confidence, the slowdown in economic activity and projected increase in unemployment. As a result, C.A.R. currently expects home sales to be down in the high single digits in 2020 compared with the original forecast from the winter of 2019, which called for a modest increase in closed sales this year. The drop is expected to be steepest in the second quarter. This forecast is contingent on how long it takes for the virus to run its course and public life to return to normal."
But how is the market?
I'm receiving word that Wells Fargo is changing their guidelines as far as new loans are concerned. This likely will include a halt on non-owner occupied new mortgages as well as a small number of new jumbo loans. This in turn could effect current home buyers and what products are available to them. As I receive concrete details I will share.
I've put together some graphics to illustrate comparisons. I've broken down the last 4 weeks, as well as the last three days in particular. So, let's compare whats been going on in real estate over the past several weeks. Have there been changes since the COVID-19 outbreak ? If so, what does that look like? The things to look out for would be drastic changes in price reductions, transactions falling through, and removed listings. What do you notice?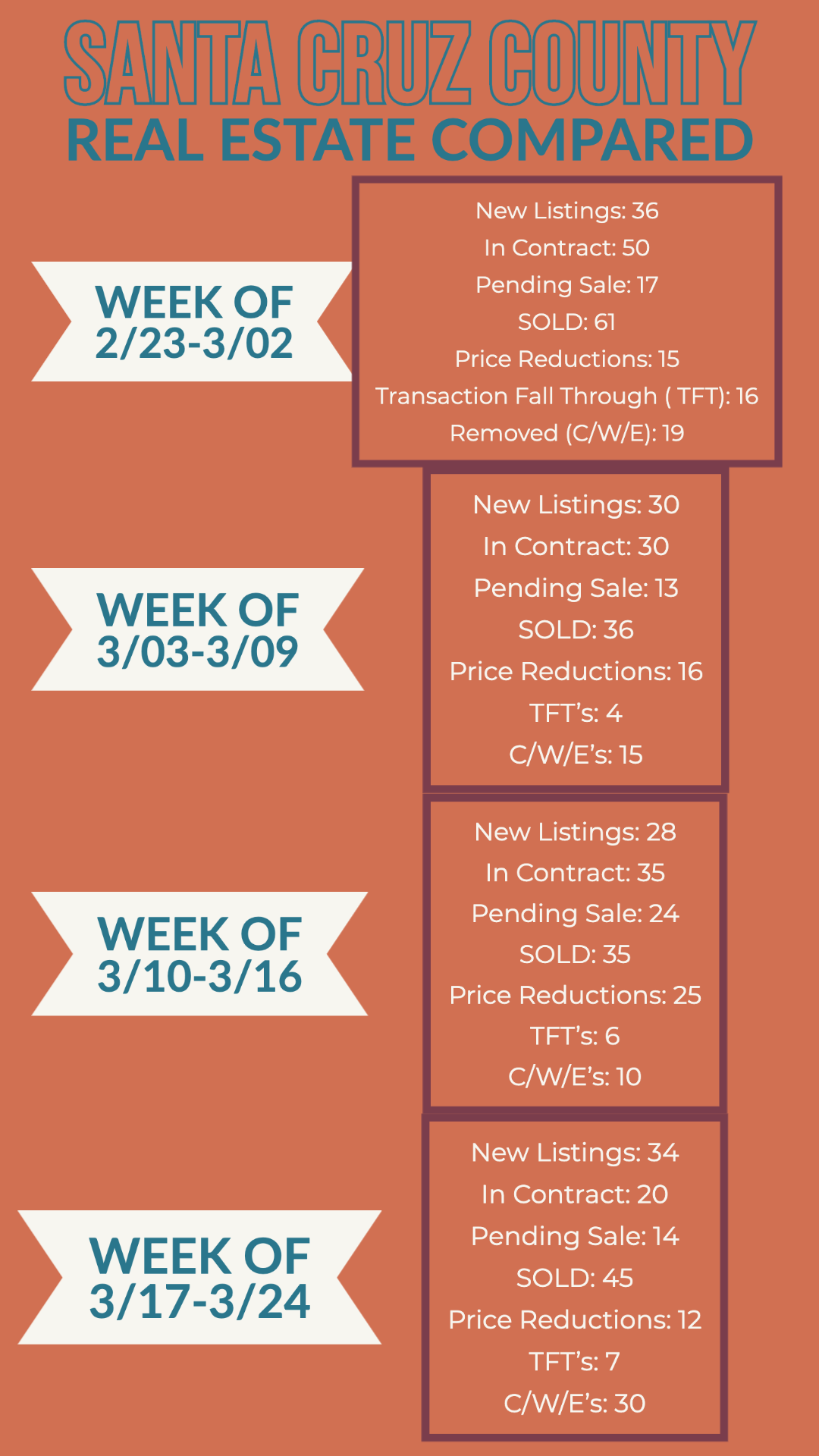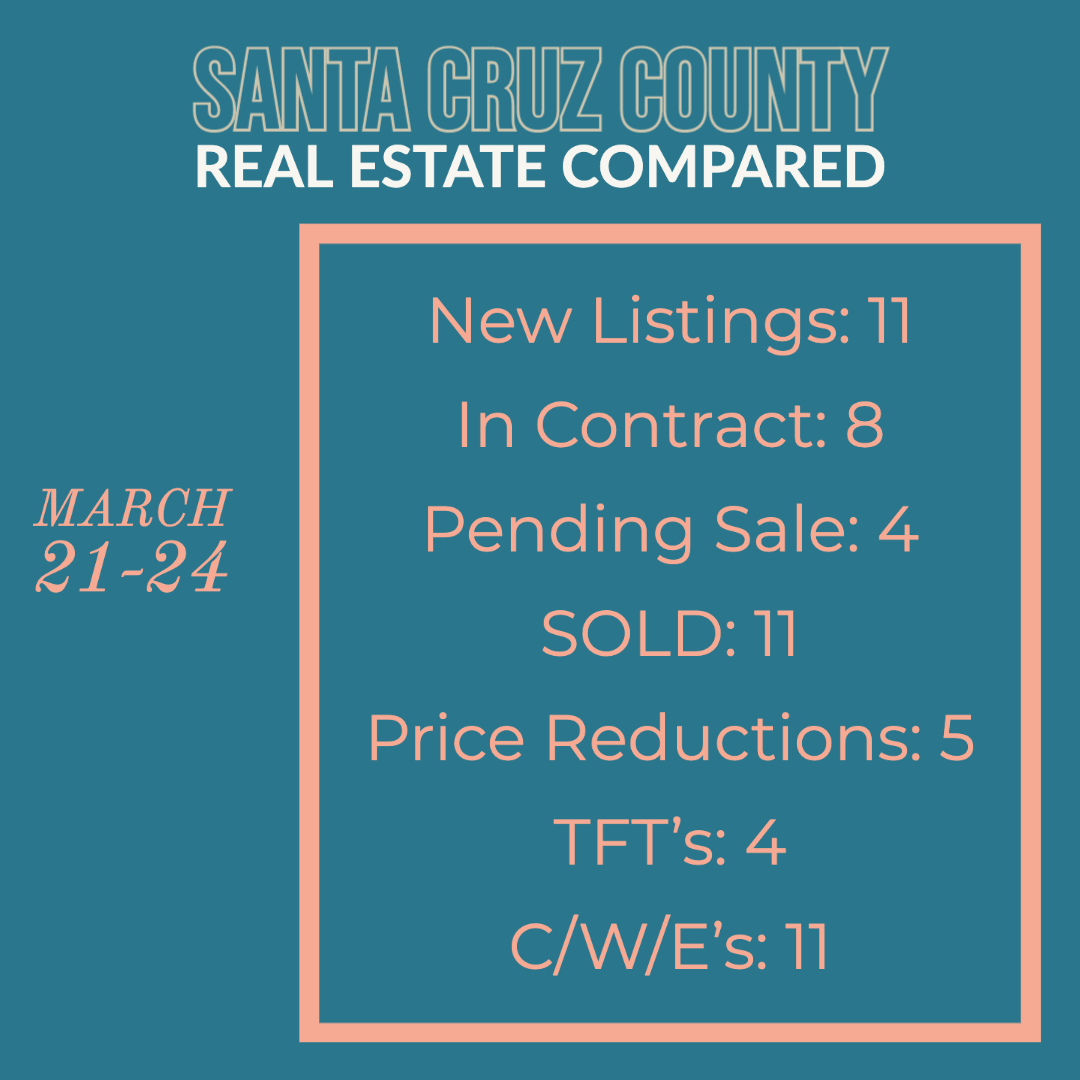 It's clear the last week has seen a drop in accepted contracts and pending sales while increasing its removed listings. However, the last few days are seeing healthy numbers of contracts. As things have been evolving daily, I am sure as the days and weeks progress we will be able to garner better opinions.
Kaelin Wagnermarsh
Realtor® DRE 01945819
Santa Cruz County Real Estate Agent
Keller Williams Realty Santa Cruz